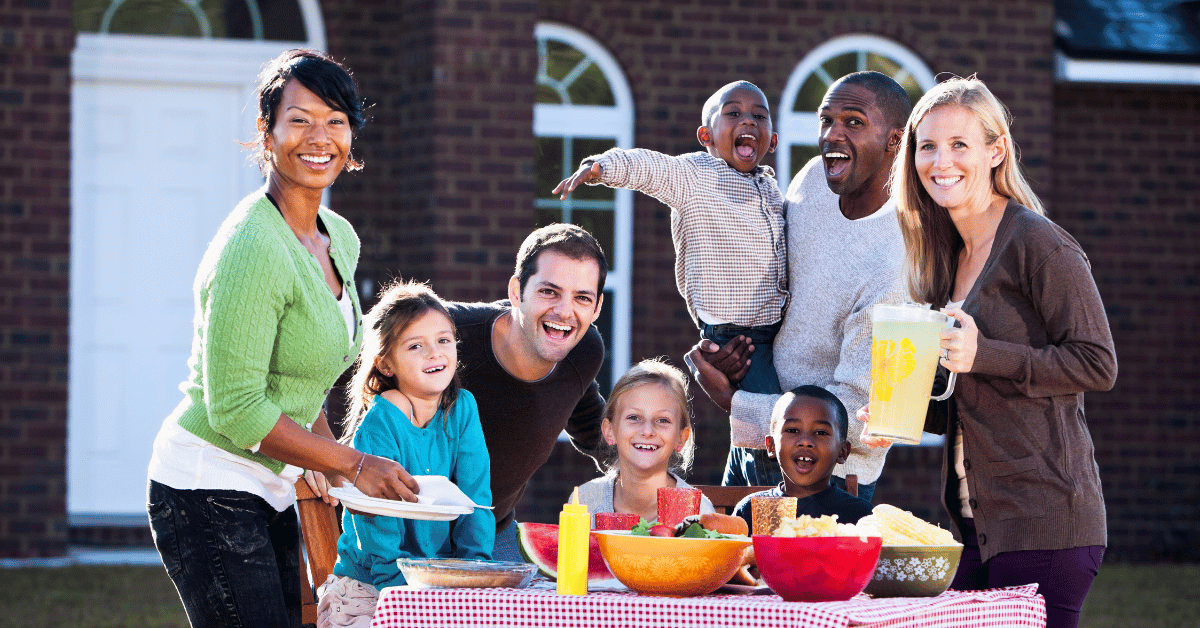 Building meaningful relationships with your neighbors can transform your living experience, creating a sense of belonging and truly making your neighborhood feel like home. Here are six easy ways to create connections with those who share your community.
1. Attend Neighborhood Events
One of the best ways to meet your neighbors is by getting involved in neighborhood events and activities. Many neighborhoods, including New Park, host gatherings throughout the year like National Night Out or family movie nights. These events offer the perfect opportunity to connect with your neighbors in a relaxed and enjoyable atmosphere.
2. Spread Holiday Cheer
The holiday season is a time of warmth and togetherness that provides a fantastic backdrop for connecting with your neighbors. Use this time to strengthen community bonds by sharing homemade treats or organizing a festive potluck dinner. You could even host a gingerbread house building contest that brings out the creative side in everyone!
3. Start a Neighborhood Group 
Discover common interests with your neighbors by starting or joining a neighborhood group. If you're a bookworm at heart, consider joining or starting a book club. For those who love to stay active and enjoy the outdoors, a neighborhood walking group is a great option! Gardening circles are perfect for those who have green thumbs and a love for nurturing nature. If your passion is in the kitchen, consider starting a cooking club and taking turns hosting culinary adventures. The possibilities are endless!
4. Host an Open House
Hosting an open house event in your home is like extending a warm embrace to your neighbors, and it's a delightful way to foster connections. Hosting a casual get-together is a great way to create a relaxed atmosphere for your neighbors to unwind, share stories, and enjoy each other's company. If you're a pro on the grill, consider hosting a cookout in your backyard! Or, take your open house to the next level with a themed party to add an element of fun and creativity.
5. Volunteer Together
There's no better way to strengthen bonds than by giving back to the community! Organize a neighborhood volunteer day to clean up a local park, serve at a food bank, or support a cause that resonates with your community. Whether it's a charity run, a fundraising event, or an effort to aid those affected by a crisis, working together for a higher purpose not only benefits those in need but also creates lasting memories of unity and compassion.
6. Build a Relationship With Your Neighbors
Sometimes, the simplest gestures make the biggest impact. When you see your neighbors, take a moment to offer a friendly greeting and initiate a conversation. Ask about their day, share a funny story, or simply express interest in their lives. These everyday conversations can uncover shared interests, common experiences, and the foundations for lifelong friendships.
Whether you live in New Park or any other neighborhood, these friendly initiatives will help you cultivate connections that make your community feel like home. It's all about creating a neighborhood where shared experiences become cherished memories and friendly faces are there to brighten your day.
New Park offers a beautiful backdrop for community activities in Montgomery, Alabama with
neighborhood amenities
like our private pool, serene lake, versatile clubhouse, playground, and scenic walking trail. Start building meaningful connections and experience the warmth of true community-
contact us today
!
Embrace the holiday season and stay organized! Get ahead of the clutter with these practical tips and enjoy the festivities with peace of mind.