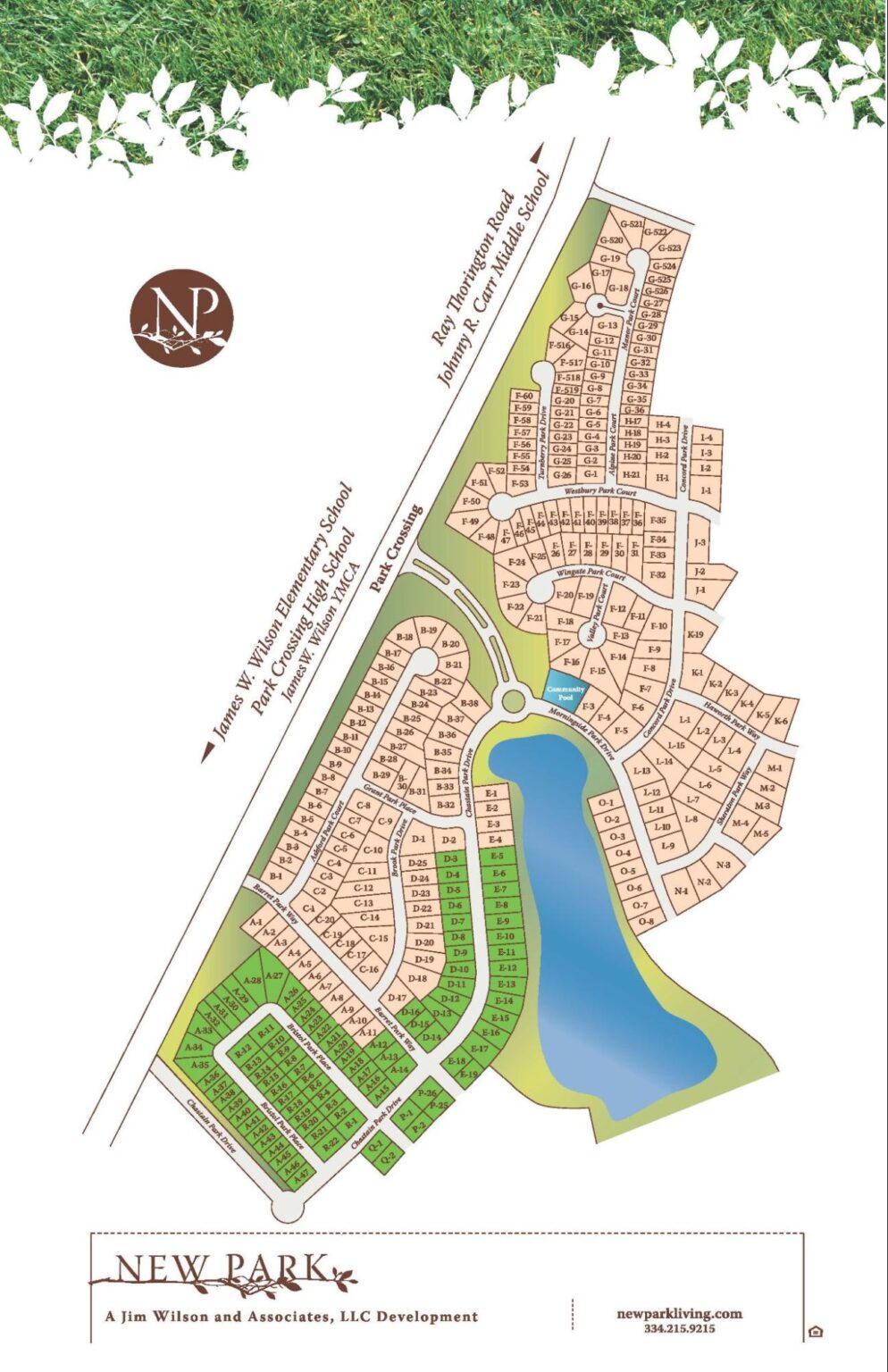 Montgomery, Alabama. December 13, 2016.  Construction and development is underway on Phase III at New Park, the largest new residential development in Montgomery County and located on Park Crossing Road in East Montgomery.  Developer, Jim Wilson & Associates, LLC (JWA) is expanding the residential project, originally began in 2008, with the addition of 93 new lots consisting of fifty (50) and sixty-five (65) foot lots.  Marketed by Jim Wilson & Associates, LLC (JWA), lots will be available for purchase in March 2017.  New Park is now accepting Lot Reservations for Phase III.  Available builders for customers include Hugh Cole Builder, Inc., New Age Builders, LLC, River Regions Builders, LLC, Mathews Development Company, D.R.Horton, Inc., W.J. Sellers Custom Homes, Inc., and Milton Strickland Builders, Inc.
New Park, home to East Montgomery, is a 1,100 acre master-planned community that began in 2008 with over 180 residential lots and has since grown to over 240 lots with development expansion in 2014.  Now, the development is growing again to offer 93 additional new residential lots that allow customers to select beautiful, livable, and affordable home designs by Montgomery's premier builders with home prices beginning in the mid $200,000's.  Located on Park Crossing in East Montgomery between Taylor Road and Ray Thorington Road, the neighborhood features beautiful landscaping, a fourteen acre lake, a neighborhood pool, outstanding access to nearby retail and schools, including Park Crossing High School, the city's newest, state of the art high school, Johnnie Carr Middle School and Wilson Elementary, and the James W. Wilson YMCA, the regions newest YMCA.  For more New Park information, visit www.newparkliving.com.
Jim Wilson & Associates, LLC, (JWA) based in Montgomery, Alabama, is a privately owned real estate company specializing in real estate development including shopping centers, residential real estate investments, offices, condominiums, hotels and mixed-use developments. With over three decades of real estate experience, JWA has developed in excess of 21 million square-feet of shopping center space. The company's development portfolio includes residential communities and condominium residences, mixed-use developments, Class A office buildings and hotel and country club assets.  For more information, visit www.jwamalls.com.
Contact us at New Park today for more information about our community, builders, or developers, or for assistance with any additional questions.