Fall is here and that means it's the BEST time of the year for football fans. There is nothing quite like that first weekend of football season. Get ready to kick off the season right at home. Invite your friends and gear up for the perfect home tailgate with these hosting tips!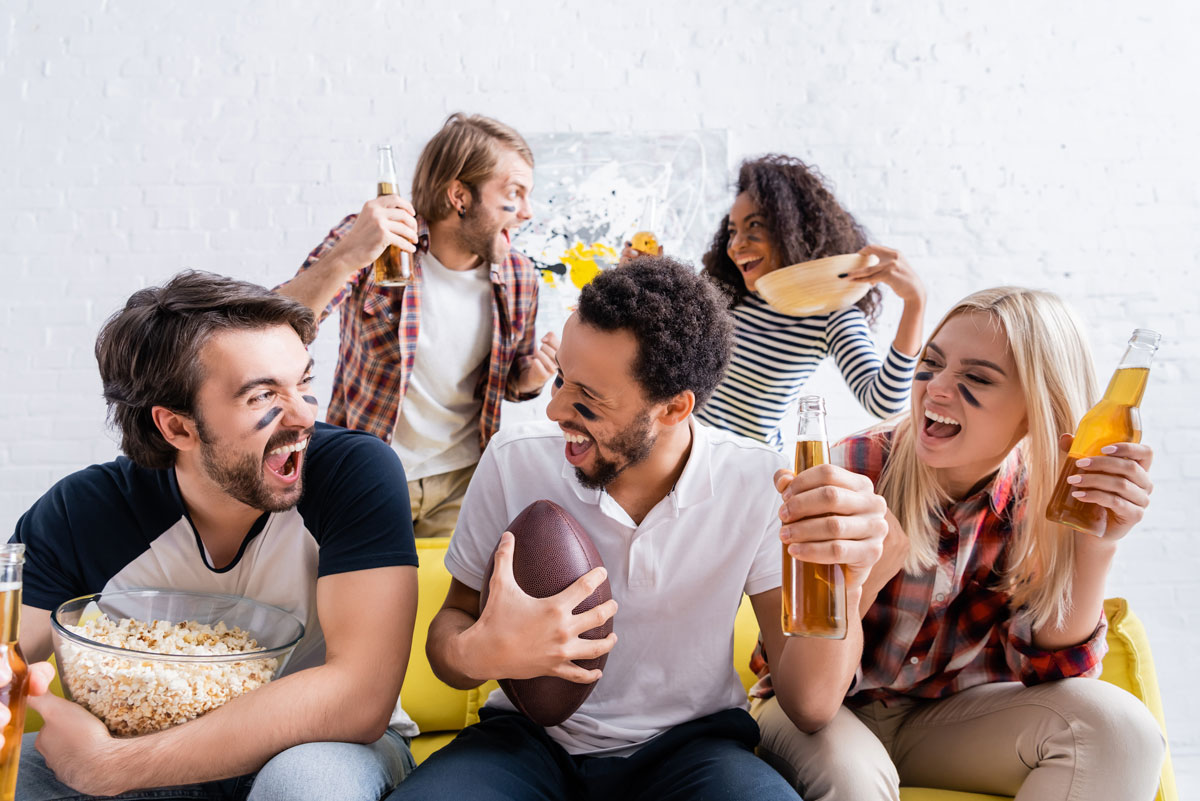 The Spread
Make sure you fire up the grill for the party! Football goes hand-in-hand with a delicious grilled meal. You can also use a slow cooker to create the perfect dip and keep it warm throughout the tailgate! Snacks, snacks, and more snacks: think chips and dip, easy finger foods, and football-themed desserts. With a spread like this, you're sure to have something that everyone will love!
The Setup
Outside or Inside? Weather, access to a television or projector, and seating availability are big considerations. If you have a fun outdoor setup with a big TV or an empty wall and a projector with a good sound system, the backyard may be the way to go. Rent a high-powered fan to ward off bugs and the heat!  And have a backup plan in case it rains!
If you choose indoors, there is easy access to the kitchen, a safe display of food, and the weather is a non-issue. You can still plan to grill outside and have some outdoor games, and then have everyone come inside for kick-off!
The Gear
Go all out with your team spirit! With the right decor, it will feel like you are at the game instead of watching it from your home. Decoration must-haves are shakers and appropriately colored solo cups. Oriental Trading and even the dollar store have fun game field-colored tablecloths and decorations to add to the fun.  You can also keep the decor more general and just football-themed.
The Refreshments
Stock up on various types of refreshments and make sure you have plenty. Put together a cooler in the living room for easy access during the game. We've all had those times when you get up to grab something right when a game-changing play is made and we hear the cheers erupt from behind you and you run back into the room, to find out what you missed. Having the drinks in the room with the screen eliminates this feeling!
 The Game Plan
Provide some yard games for everyone to play while you're waiting for the burgers on the grill. Some popular options are cornhole, ladder toss, or spikeball. You can also just simply set out a football and/or a frisbee. Don't forget the lawn chairs so the people who aren't playing can hang out and watch.
FOOTBALL INSPIRED MASON JARS
View this post on Instagram
These are great for displaying silverware, straws and napkins!
What you'll need:
Mason jars
Chalk paint
Paint brush
Vinyl
White buttons
Hot glue & glue gun
JALAPEÑO POPPER FOOTBALL CHEESE BALL
View this post on Instagram
Prep Time: 15 Min
Servings: 30
Ingredients:
16 oz cream cheese softened
8 oz grated/shredded sharp cheddar cheese
1/4-1/3 cup chopped green onion divided
1/2 cup diced pickled jalapeños extra as desired
1/2 tsp garlic powder
A pinch of salt
3 slices of bacon
1/3 cup panko breadcrumbs
2-3 TBSP fresh parsley
2-3 fresh jalapeños (approx. 1/4 cup finely chopped)
1 slice mozzarella or white cheddar cheese
Check out the New Lots Coming Soon to New Park!
Contact us today to learn more about new lots coming to new park, our builders & real estate developers, or for any additional questions!