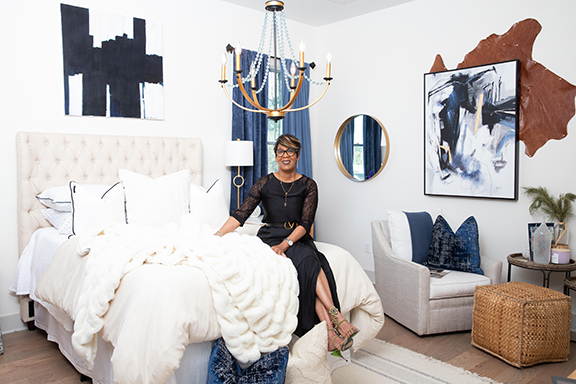 Design and Decor trends are always changing and it can seem impossible to keep up with the times, especially on a budget! The good news is, you don't have to completely re-furnish your home in order to keep it looking fresh and updated. To help update your space, we've asked Cassandra Crosby of CCI Premier ReDesign & Staging to give us some tips on the latest trends and the best ways to implement them.
What are some essential trends in 2022?
The 2022 trending design styles and way of living has changed and continues to change as we regroup from the pandemic. A few trends that have emerged during this time are:
Minimalism, Simplicity and Practical/Functional Spaces are TOP on the list.
With so much going (and staying) remote, creating spaces like Home Offices, Homework Rooms and Family Spaces are essential in 2022!
Unexpected matches are 2022 trends as well. Such as:

A Farmhouse sink with modern brush brass hardware offers the modern and vintage mix.
Black Moldings and Baseboards creates the ultimate contrast against those gray or white walls
Wallpaper is back and easier with Peel and Stick.

In 2022, you don't have to be limited to a traditional chandelier in the dining room, try adding one to the master suite or the family room.
What are Cassandra Crosby's design tips for 2022:
CCI Premier ReDesign and Staging has implemented the "make it work with what you have" concept.
Create a NEW look. Rearrange, redesign and add pieces to your old design to create a fresher, trendy design concept that compliments the current look, instead of taking away from it.
Budget Friendly ReDesign. Changing the paint palette, adding greenery and repurposing vintage pieces is going to be budget friendly and stylish.
Update your Lighting. This trick is essential in creating a 2022 redesign style. From Master suites to Kitchen and Family Spaces, a lighting change is a surefire way to refresh any space.
Enhance Your Space. Creating Simplified Silhouette Lighting with longer lines that are modern and sleek (like Sputnik, Geometric, Open Cage, Unique and Drum to name a few) will enhance any space while introducing a contemporary flare that offers as we say at CCI "freedom in elegance."
What are some tips for changing the lighting in Master Suites, Kitchen and Family Spaces to refresh the space?  
In your Master Suite: Remove the ceiling fan and replace it with a chandelier. This offers immediate warmth, style and sophistication.
In your Family room: Without sacrificing comfort, we suggest streamlined ceiling fans, sleek, modern and smart fans. Use a flush mount for low ceilings, a rustic or industrial-style fan for a Farmhouse theme, and for Coastal themes, we suggest wicker blades which are a great indoor/outdoor option for a beach or lake house.
In your Kitchen: There are many types of lighting needed in the kitchen.

Ambient lighting is your basic fill lighting for navigation. Most popular types of lighting are recess cans and drum lighting both used for functionality.
Task lighting is essential for food prep and is most effective under cabinets and over the stovetop.
Accent & Decorative lighting is used for entertaining and ambience using pendant lights, candles and even a lamp (yes in the kitchen).
All while using those energy-efficient warm glow bulbs
At CCI Premier ReDesign & Staging, we take pride in recognizing your budget all while creating the space you so deserve.
An example of CCI's simple redesign solutions and trends:
A design trend is not simply making the fireplace a focal point… the goal is the most functional layout that is appealing to the eye. To accomplish this, we replaced the TV and changed the design style by moving the TV to where it is actually more functional and made the room feel more open.
We also repositioned the furniture in a way that opens the space and really invites conversation. Then, we added drapes, consoles and accessories to include art, pillows, rug, baskets and table accessories which made the room feel more complete.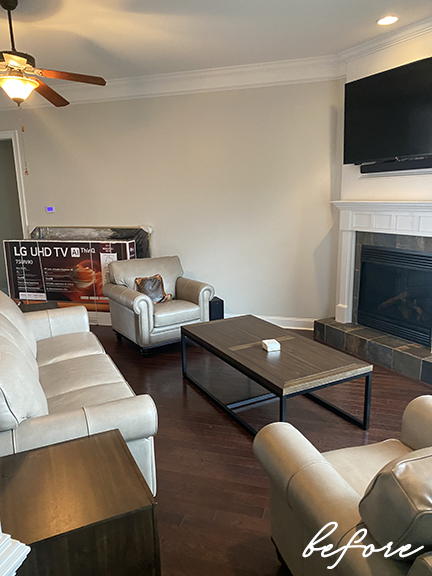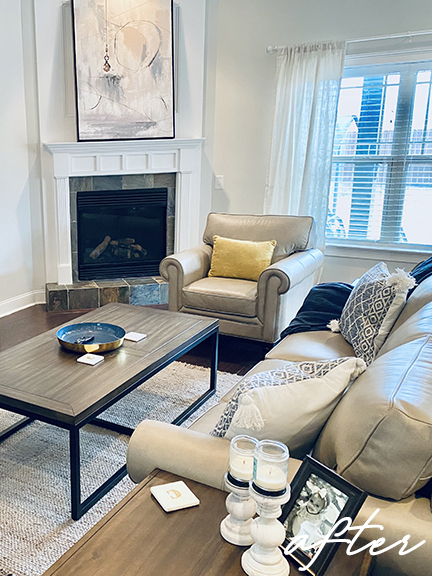 Cassandra Crosby of CCI Premier ReDesign & Staging
 Cassandra grew up in a small town just outside of Montgomery, AL. While she spent her elementary years in Columbus, GA, she has been in Montgomery most of her adult life. Cassandra is the owner of a full-service home staging and redesign company. CCI Premier ReDesign & Staging specializes in transforming houses into homes. She is a certified home stager /redesigner, has worked with HGTV and services realtors in Alabama and Georgia. Cassandra has also served as the principal partner @ Crosby Drinkard Group, LLC for the last 15 years. She serves on a number of boards in Montgomery and is affiliated with Leadership Montgomery class 23, Leadership Alabama class 30, Certified ReDesigner & Home Stager, Airbnb Superhost & Ambassador 2014 and Real Estate Staging Association.
Contact us at New Park today for more information about our community, builders, or developers, or for assistance with any additional questions.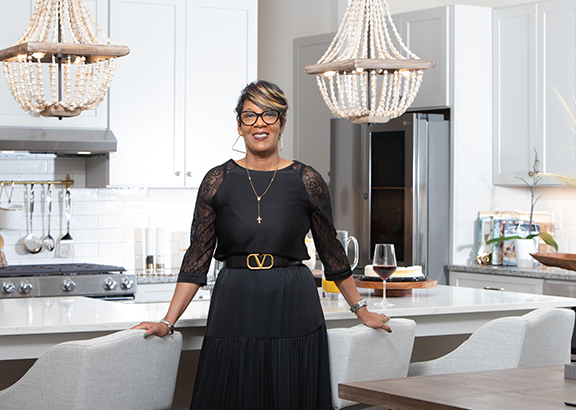 INSTAGRAM | HOUZZ | YouTube | FACEBOOK | Linkedln
PHONE:
334-544-0551
334-669-2719
WEBSITE: Ccipremierdesign.com
EMAIL: stageit@ccipremierdesign.com
ADDRESS
Warehouse: 37 East Railroad Street | Montgomery, AL 36104
Mailing: PO BOX 5167 | Montgomery, AL 36104
CCI CONSULTANTS, LLC
ReDesigner & Home STAGER
AIRBNB SUPERHOST/ Specialist
Summer Hydrangea Wreath
 What you'll need:
Faux hydrangea flowers in pale aqua (number of flowers needed will vary)
Wire cutters
Floral tape
Metal wreath form
Click here for step-by-step directions
Watermelon Fruit Salad
Ingredients:
5 cups watermelon, cubed
2 cups strawberries, sliced
1 cup cherries, seed removed & sliced
1 cup raspberries
1 cup blueberries
Juice of 1 lime
1 tablespoon Simple Truth Organic Blue Agave Light Golden Syrup
A few mint leaves, chopped for garnish
Chia seeds, for garnish
Optional: organic sugar, sprinkle for extra sweetness