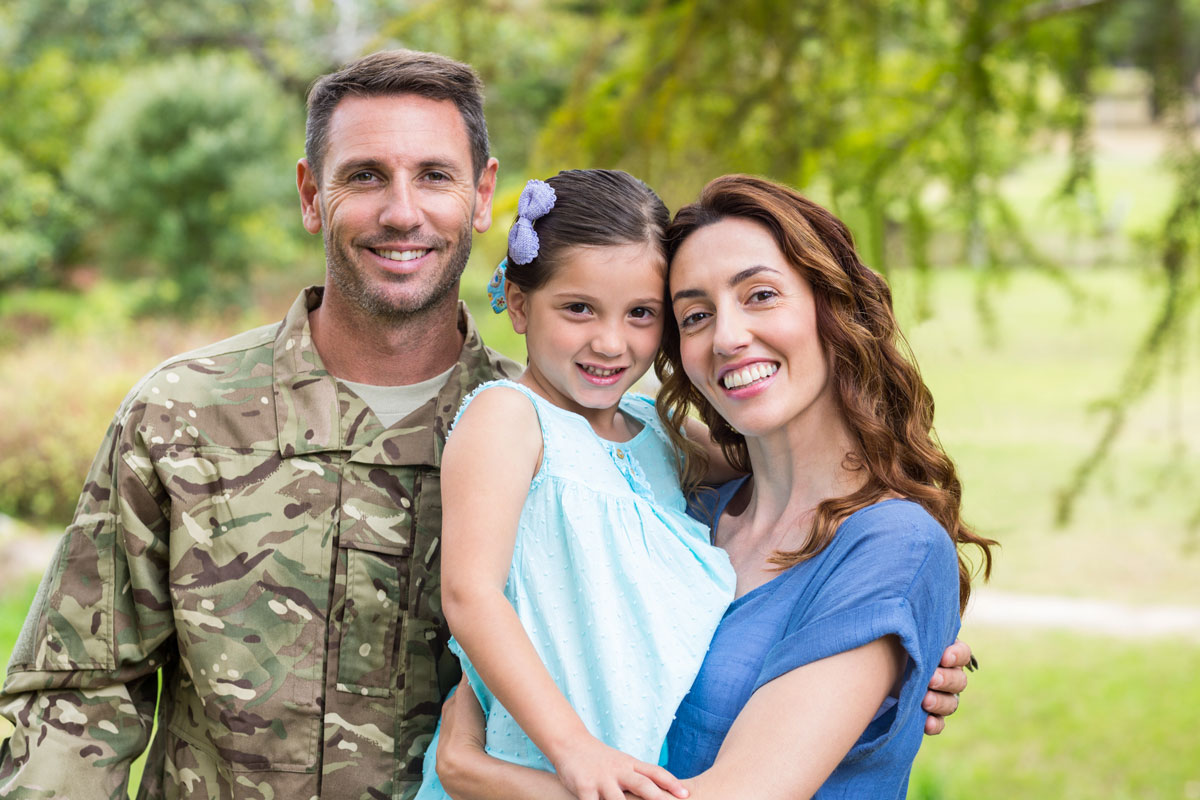 As a military family, your wishlist usually looks a lot different than the everyday homebuyer. To ensure that New Park is the perfect fit for military families like you, we've asked some of the families in our neighborhood to share their experiences in searching for and finding a house here in Montgomery!
If you're here in the River Region on assignment, odds are you're looking for a quick, easy buying process and a good return on your investment or a valuable rental property. Here are a few of the main factors that others like you expressed they considered when buying their home in New Park.
Remote Home Buying Experience
The remote buying experience is a reality for military families, and New Park makes it easy by providing brand new homes that you can tour online and trust the quality. Being too far away from your new destination to tour homes in person means you have to search for, decide on a home and complete the buying process remotely. That is why a lot of families seek brand new homes and choose one of the New Build Homes at New Park! Robert Gross, Lowder New Homes On-Site Agent, shared how they work to bridge that gap in remote home buying.
"As a Lowder builder representative, we can provide them the accessibility of being able to sign contracts electronically, conduct design appointments by facetime and take photos of the home while it is under construction. We know how stressful moving can be and we are here to help them with references for fencing installation, lawn care, blinds and utility information."
Future Rental Value
We know how important it is to consider your future rental value when choosing a home. Here's what other families like you had to say. A common response we received was that military families wanted a New Build so there was no work on the front end, and when they receive their next assignment in the future, they will have a valuable rental property.
Kimberly and Aaron will only be in Montgomery on assignment for two years, so this is what they had to say about their home buying process. "When looking for a house in Montgomery, we knew that we would only be living here for a short time before receiving our next assignment, so our main priority was finding a New Build that we could rent out once we leave."- Kimberly & Aaron.
New Park's newly built homes mean that you can trust the pictures and know it will require no maintenance. Molly and Bryant, who moved into the neighborhood in May of 2021, shared that a New Build home was exactly what they were searching for when they came across New Park.
"When we were moving, we wanted to find a New Build that we could buy without having to come see in person as we weren't comfortable flying due to the pandemic at the time. We were drawn to New Park because we liked the look of the Lowder New Homes style and wanted a community with a pool."- Molly and Bryant.
A Good Community
As you are constantly picking up and moving to different cities, finding a good sense of community can feel so important when choosing your neighborhood. New Park offers a solid community for your family to feel at home and be able to connect with many other military families in the area.
Kimberly and Aaron shared how they love the community aspect of New Park, saying, "New Park offered us what we were looking for and so much more with the amazing military community we have found here. Most of the neighbors on our street are also military families so it gives us that feeling of living on base but with much better quality of housing!"
Molly and Bryant also shared that the community is one of their favorite aspects of New Park. "We love that New Park is such a warm and diverse community which is something we find incredibly important when choosing a place to raise our kids."
A Convenient Location
We know this home will likely be a temporary stop for your family. And as you are new to the River Region, it's important to find a home in a great location. This means better quality living for your family during your assignment and better quality rental property once that assignment is finished and you are off to the next destination!
 Robert Gross of Lowder New Homes shared, "Military families are usually searching for homes that will be as close as possible to the base where they will be working. They are also looking for neighborhood amenities for their children and a good school system. Since most of them will only be in the area for a couple of years, they want to make sure the home can make a good rental property if they choose to keep the home. They also like to be around other military families so they can have some support."
If you have kids, your family will benefit from New Park's close proximity to quality schools and fun things to do for family outings. Families with or without kids will benefit from the short distance to the Air Force Base and the Commissary. Another plus in the location column for New Park is its location in the heart of East Montgomery, surrounded by an abundance of shopping, restaurant and entertainment options.
New Park is only 16 miles from Maxwell Air Force Base and 13 miles from the Gunter Annex, making it a quick trip to the base for any assignment or commissary necessities. New Park is within walking distance to an elementary, middle and high school providing your kids the opportunity to walk or ride their bike to school creating a true family-friendly community. New Park is zoned for James W. Wilson, Jr. Elementary School, Johnnie Carr Middle School, and Park Crossing High School.
New Park offers a warm welcome to all military families in the area and meets many needs for families on assignment. New Park is in a perfect location to be close to any and all things on your wish list making for a near-seamless transition and unbeatable future value. You can feel at home here in New Park and immerse yourself in the military-friendly community.
Contact us at New Park today for more information about our community, builders, or developers, or for assistance with any additional questions.